Nella was born September 24th 2008 in Ohio
She is one of four puppies born in our home.

Nella is our happy go lucky puppy. She smiles all the time and is always ready to play. She is her "Daddy's little girl", she and Spurðann play together for hours on end. Nella is happy to play with all of our dogs, she even tries to cheer up our Boston Terrier Rocky when he is grouchy. She has a wonderful temperament, and is all I could ever have hoped for, I am so glad I kept her even though we did not need another dog.
 We are so blessed to have our little Nella.
Nella was born  2008 in our home. She is our baby girl from Spurðann's and Snotra's litter.
 What a fun little girl she is, we are so lucky to have her.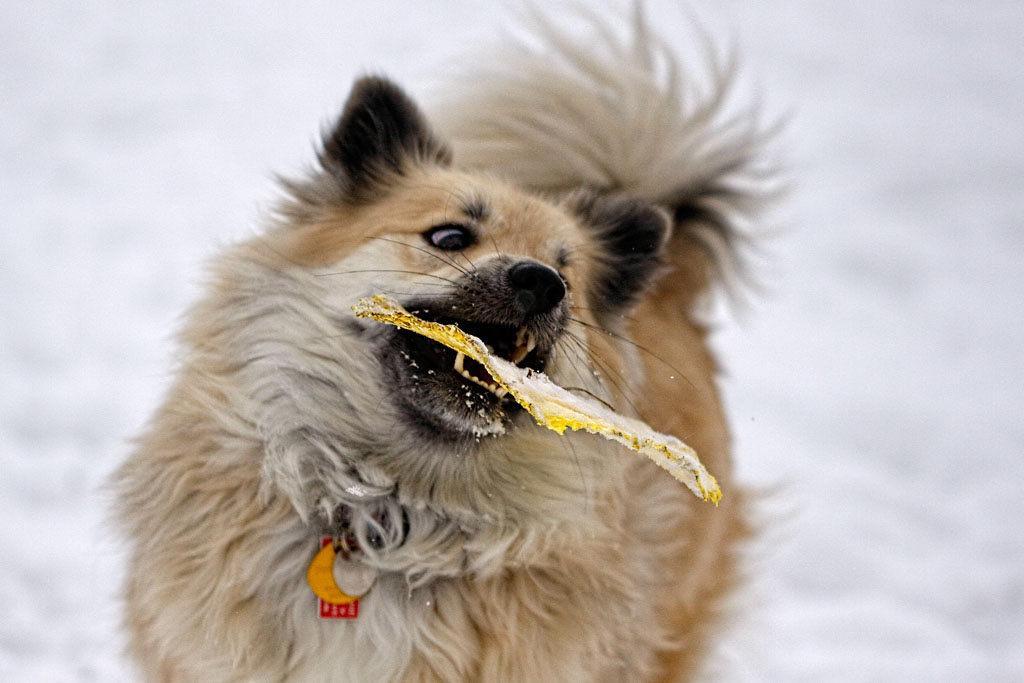 Nella loves to play outside, any toy is fun for her, be it an old sock or a stick from the woodpile, .
She is a happy little girl, always smiling.
She will play for as long as the other dogs are willing to play with her, or she will lay down and chew on whatever is handy by herself.  When she is done playing she likes to cuddle.
She is very sweet, she always comes when called, and like her mom, never lets me get out of her sight.
At the First ISAA National 2009
Nella got Best puppy bitch 12-18 month under Judge Guðrún R. Guðjohnsen
From the judges report:
Coat long, light fawn with black mask and black tips, head good expression, bite correct, eyes dark, ears correct, chest good, front good, back good, topline correct, tail correct, movement good.
Registration Numbers and Pedigree:
AKC DN22765403
CERF: IS-356
08, 10 Normal
Latest CERF 20 Dec 2012, Normal
She has an AKC pedigree.
Both of her parents were imported from Iceland and have FCI and AKC Pedigree.
Nella has single dew claws, long fawn coat with black mask and black tips,
 and beautiful dark brown eyes.