This precious little boy came to us in January 2005.
Jeff and Kristinn drove to Maryland to pick him up from a wonderful lady that was gracious enough to pick Spurðann up at the airport and keep him overnight for us.
This little guy was a big dog in a small body and with a HUGE personality.
He was so full of energy and there was never a dull moment with him around.
He was always so happy, and loved his family so much.

He was always ready to play and became friends with the other dogs, although he loved Snotra and Adrienne our Boston Terrier, right away.  
When I was a child growing up in Iceland, my father used to tell me the stories of his awesome dog
 Spurðann (Ask em).  I loved listening when he regaled me with stories, I knew someday that I would have a dog with that name. I couldn't have gotten a better dog for the namesake than my wonderful Spurðann, not only was he my special boy but also reminded me of my father and the mystique of those childhood stories.
 He will always have a special place in my heart.

Spurðann really enjoyed playing in the snow, didn't matter how cold it was, he really preferred the colder weather.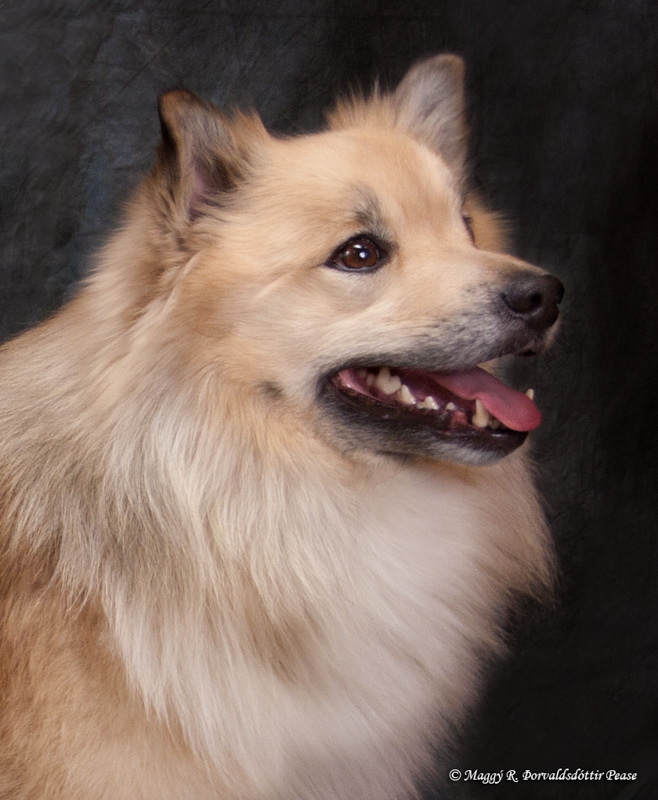 From a young age he got used to posing for the camera, and did it well.
Amazingly as full of energy he always was, he knew when he needed to stay still or to be quiet.
We never had problems taking him anywhere, at the vets office or dog show or what have you, he was always calm and very well behaved.
AISE Icelandic Sheepdog Show,
Maryland, August 2007

​​​​​​​We took the dogs to the Maryland show to  participate along with over 37 other dogs and their owners.
Spurðann won Best of Breed.
We showed him several times after that,
 He was Top 10 UKC Icelandic Sheepdog in 2009 and was listed as AKC top 25 dogs 2010
After a while, he made it quite clear to us that he didn't like the showring, so we decided not to show him anymore.
He was never happy unless he was with his pack.
He was qualified and invited to the Eukanuba National Championship
Long Beach, California 2010, but we chose not to go.
Spurðann earned his Canine Good Citizen title in 2007​​​​​​​
Spurðann sired two litters and eight puppies.
He was such a good daddy, he loved playing with his puppies
It really was amazing to see him with them.
His favorite baby girl was no doubt Nella.  They became the best buddies, he taught her everything,
 and whatever he did, she was sure to follow.
He loved to spend time and play with his pack, we would spend hours with them playing in the snow
We also played in our backyard all the time, he loved chasing the ball or the frisbee, didn't necessary want to bring it back to us, just wanted to be the first catching it.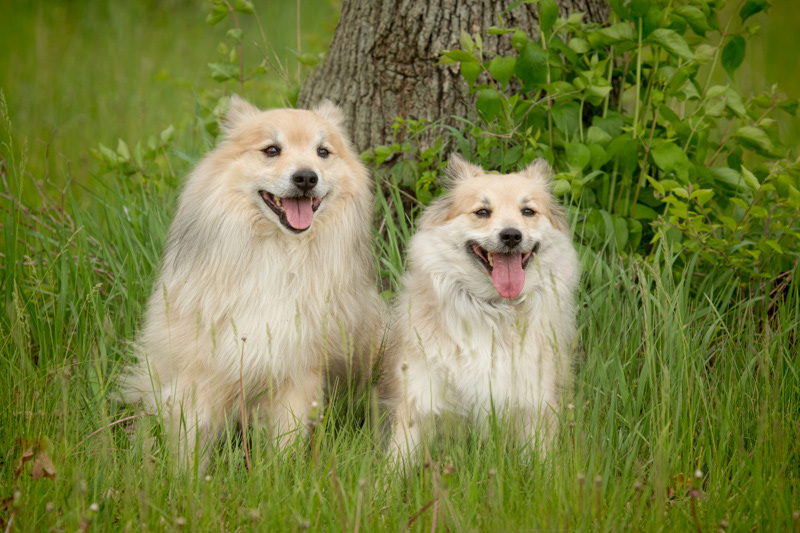 They loved going to the Metro Parks, especially Spurdann, he really loved it, there was so much to see and explore.  He loved walking or running through the park and to check out all the puddles and the creeks.
Most of all, he liked spending time with his pack and his family.
Spurðann was a family dog for sure.  He loved all of us, and we all loved him.
When he wanted some attention he would bring a toy and wiggle his butt, also when we came home from being away.  In the evenings he brought me his toy and rubbed his nose against mine, made me laugh every time.
He was such a big character.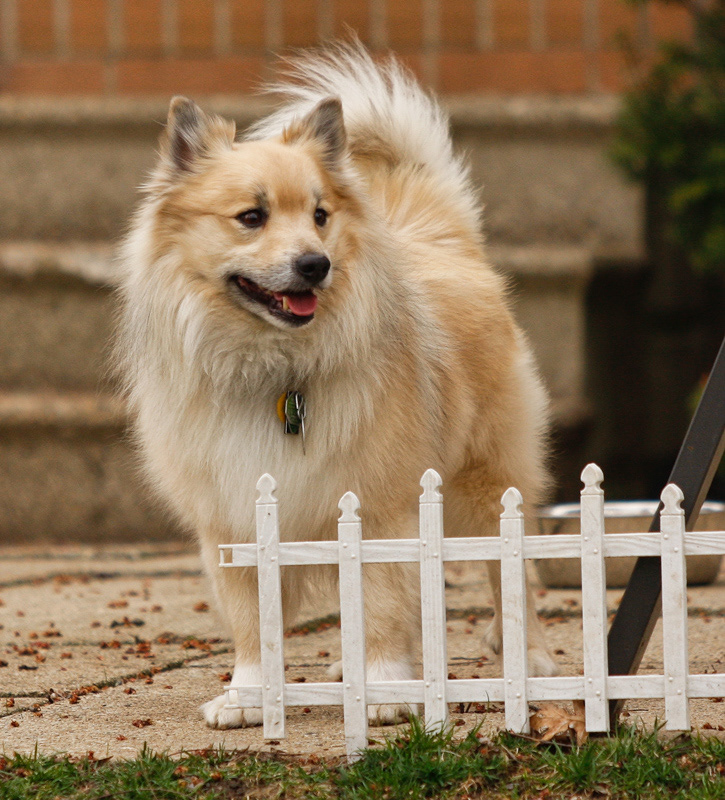 I loved his excitement when we came home from an errand or just from taking the trash out. 
 Didn't matter if it was hours or just few minutes,  it was always like he hasn't seen us for weeks, he was always so happy when we got back, he could barely control himself.
He loved going for walks, when he knew it was about a time to go for a walk, he couldn't be still,
we never moved fast enough for him. He was such a fun little guy and so smart.
He ALWAYS made me smile.
We miss all the hugs and kisses he was always willing to give, his smile and his wonderful temperament.
He was like a big huggable teddy bear.
As he got older he slowed down some, but it wasn't until he hit his 16th birthday that he really slowed down.
Spurðann will be missed a lot, with him gone it's very quiet in our home.
Although we appreciate the 16.5 years we got to spend with him,
we miss that smiling happy face coming to greet us everyday.
They come into our lives for such a short time
A time we wouldn't trade not even for a dime
Then before you know it the years have flown by
And then all of the sudden we're saying good-bye
It wasn't that long ago we said our good-byes
We held on to you tight as you closed your eyes
Your spirit has flown home on the wings of a dove
Into God's loving arm's; in heaven above
Over the days we've shed many tears
But the memories we have will live on for years
We feel your presence and we know that your near
You're keeping us safe and calming our fear
We think about memories from years past
When you were young and strong and ran so fast
We remember all the great times that we all had
How you always made us happy never made us mad
They were the best and happiest years we had
We'll always look back on them and never be sad
We look forward to the time we'll be together again
And we thank the Lord for such a great friend
Now you run and play up in Heaven above
Cradled in God's arms covered with his love
Playing by the Bridge waiting for the day
We come down thru the meadow to the bridge to stay
The love that you showed us we'll never forget
Because to us you're one very special pet
You're like a star in the dark of night
Always watching over us with the Lord's light
So now we take time to remember our best friend
Who will always be with us even to the end
We'll always remember you the way you were
One big lovable huggable pile of fur
November 9th 2004 - July 1st 2021